How Umicore in Nowa Ruda creates materials for a better life
The Umicore values accompany more than 11,000 employees worldwide in their daily work. Our plant – Umicore Autocat in New Ruda is no exception. We are constantly working to offer our customers materials and solutions that are essential to everyday life.


Let's get to know each other better
Our plant started operating in 2015 and it focuses on the production of automotive catalysts that reduce harmful vehicle emissions. At Umicore in Nowa Ruda, we conduct researches in the field of advanced catalytic processes and put them into practice.
Although Umicore has over half a century of experience in catalytic technology, it does not rest on its laurels. The company not only adapts its products to generally accepted standards, but also aims to deliver pioneering solutions. Umicore Autocat Poland makes a contribution to this as well.
Our commitment to the environment
One of the main goals of Umicore in New Ruda is to provide solutions and products that contribute to reducing emissions. We firmly believe that we all have the right to breathe clean air. For this reason, even the establishment of our plant was aimed to support the European initiative "Cleaner Air For All".
Each of Umicore's plants has an impact on our global operations. As an international organisation, we can contribute to the development of quality standards related to environmental protection. Working at Umicore is not only a part of our career path, but also our way to ensure a safe environment for future generations.


Our commitment to employees
But all this would be impossible without our employees. Regardless of their job position, they support our mission with their attitude and commitment. We are constantly trying to express our gratitude to them. Our activities in this area have been appreciated, among others, with the "Róża Kłodzka" ("Kłodzko Rose") award in the category Employer of the Year 2018. The award for Umicore Autocat Poland was granted for "setting up from scratch an industrial plant offering stable employment and an attractive incentive system for residents of the region and the development of modern pro-ecological technologies".
We want to make sure that working at Umicore also involves a sense of safety for each of us. That is why we take care of the health of our employees and their families, among others, by means of medical packages or popularization of physical activity via the Umicore Nowa Ruda Jogging Group.
At Umicore we are open to specialists in various fields, from technology to administration. Working at the Nowa Ruda plant is based on a sense of community in pursuit of goals and a creative approach to processes. Being a team, we do not forget that individuals - people with different experience, origin or professional background - form it. This is our great advantage and we try to make sure that different perspectives constantly inspire us.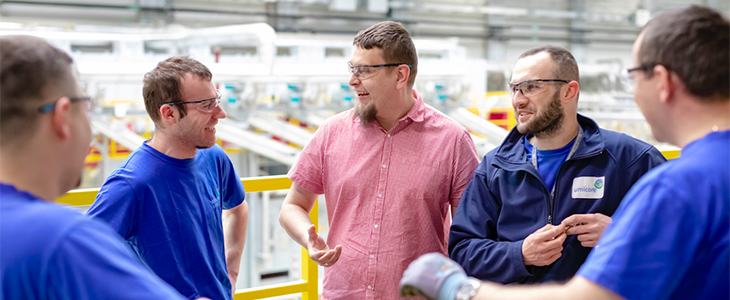 Our commitment to the community
We treat ourselves as a part of the local community. So we want not only to provide it with good workplaces, but also to support the promotion of ecology and a healthy lifestyle. That is why we participate, among others, in tree planting projects and physical activity initiatives.
We also believe in the power of education. That is why we support the youngest members of our community in their educational and professional journey. We have taken patronage over a class with a chemical profile of the Secondary School Complex No. 1 in Kłodzko. Thanks to this, students have a guaranteed access to scientific equipment and scholarships. We plan to start cooperation with the Wrocław University of Science and Technology in July this year through student internships and apprenticeships in Umicore.
"We are proud of our position as a pioneer and world leader in materials technology and sustainability, but in an industry as disruptive as ours, we know we have to keep moving. Both as an organisation and as an employer. This conviction guides us in our local development strategy, in which the environment, our employees and the local community are extremely important to us" - says Magdalena Ryż, HR Manager Umicore Autocat Poland.
As a company and a team, we all share the same values, we all respect one another and we are all working towards the same vision: to create materials for a better life.